With Women's Health Week just around the corner (9th of May 2022), it's the perfect time to recognise and highlight women who are struggling with arthritis, particularly those affected by menopausal joint pain. 
Arthritis affects many people as they get older, but it's significantly more prevalent amongst women than men. The number of cases increases dramatically in women over the age of 50 which could be a direct consequence of the impact of menopause on joint health. Joint pain affects 40% of all menopausal women1 and can have a profound impact on quality of life2, however, it's often wrongly overlooked as an 'inevitable' part of ageing, with many women suffering in silence. 
Dr Anne Henderson, Consultant Gynaecologist and Accredited Menopause Expert comments;  
"Women often overlook aching or painful joints as a natural sign of ageing, but it's important to understand the impact hormonal changes can have when approaching the menopause. Oestrogen is a primary female hormone that contributes to the protection and elasticity of joint tissues and cartilage, when these hormone levels begin to decline it can lead to painful joints and increase the risk of osteoarthritis." 
Fortunately, simple lifestyle changes taken at the first signs of joint pain can make a valuable difference in the care of joints. 
According to Dr Anne Henderson; "It is important to consider a full spectrum of treatment options including lifestyle changes, diet and exercise, but also herbal medicine and supplements that are backed by scientific evidence. Rose-hip extracts have been studied in multiple scientific trials, mostly for their cartilage protecting properties3. The active compounds found in rose-hip, in particular the galactolipids known as GOPO®, have been shown to have anti-inflammatory properties which can relieve pain, whilst some clinical studies show it to be as effective as taking paracetamol4. Drinking plenty of water also helps to retain joint flexibility, whilst staying active strengthens supporting muscles and keeps excess weight at bay – reducing the impact on load baring joints." 
GOPO® Joint Health is a powerful natural anti-inflammatory treatment made from 100% specially cultivated rose-hip, with a uniquely high level of the galactolipid GOPO® and rich in Vitamin C, a key component in the body's natural production of collagen. GOPO® has been shown in randomised, placebo-controlled clinical trials to relieve joint pain and stiffness in women of menopausal age5, contributing to improved activity levels. In one study, 8 out of 10 patients reported a significant reduction in pain after just 3 weeks of GOPO®6.
Mor about GOPO® Joint Health 
High levels of the galactolipid GOPO® are found only in GOPO® Joint Health. GOPO® has been evaluated in numerous rigorously conducted, placebo-controlled, clinical trials involving hundreds of patients with difficult-to-treat chronic joint conditions, including osteoarthritis and rheumatoid arthritis3-8. Efficacy results have been consistently positive and evidence supporting the benefits of GOPO® has been presented around the world at numerous clinical meetings and many studies have been published in peer-reviewed journals.
HOW THE GALACTOLIPID, GOPO®, WORKS
Laboratory studies into GOPO® have demonstrated that it can switch off certain genes responsible for producing proteins and enzymes that have been implicated in inflammatory joint destruction and switch on genes that help to produce collagen and cartilage3, which are essential components of a healthy joint. This suggests that when taken long term, the galactolipid GOPO® may protect cartilage cells and help to rebuild joint tissues3.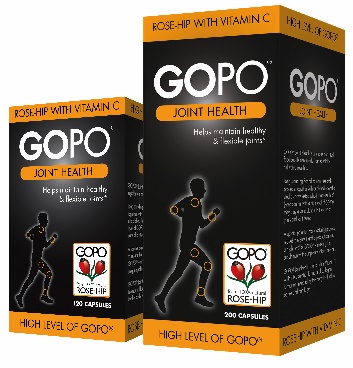 GOPO® Joint Health is also rich in Vitamin C which is essential for normal collagen formation, needed by the body for healthy bones and cartilage
GOPO® Joint Health is available from Boots, Amazon, supermarkets and independent chemists nationwide and is priced at £20.48 for 120 capsules and £30.99 for 200 capsules.
Visit www.gopo.co.uk for further information.
Other products in the range include:
GOPO® Joint Health Plus Ginger, available to buy from Amazon and independent chemists nationwide and is priced at £26.99 for 150 capsules.
GOPO® Joint Health Awards
Highly commended in the 'Best Supplement' award – Natural Lifestyle magazine.
Note from Mandy: I am always looking for ideas on what to use to limit the joint pain I experience due to osteoarthritis and thought I would share this product with you – the more information we have at our fingertips, the better.